FeiyuTech
Feiyu technology, focus on video stabilization technology research, has launched a motion camera stabilizer, cell phone stabilizer, camera stabilizer, the company adhering to the "specialization, high quality, excellence" of the corporate culture, determined to independent scientific and technological innovation for the foundation of this, to all walks of life to provide customers with high-quality, High-tech products.
AK2000S (Standard Kit) DSLR Gimbal
◆ Max payload updates to 2.2 kg, easily work with popular mirrorless cameras.
◆ Detachable versatile arm, switch between single handle and underslung position to use in more different shooting scenes.
◆ Quick release plate design for camera to get real quick setup in 1 second.
◆ Base and upper quick release plate is compatible with ARCA quick release system, which can fast switch between popular quick release system and AK2000S.
◆ 3 Axis motor-lock design to get a convenient balance and storage.
◆ Unique light rosewood handle which combine metal with solid wood make it feel excellent while holding.
◆ Touch screen operation without APP to directly set up parameters and change working mode.
◆ Just touch one icon and you will directly enter Inception mode/Long exposure timelaspe/ VLOG selfie/ TikTok portrait shoot and got more popular shooting ways.
◆ Supply USB Cable control/Wireless control way to take picture/recording/timelapse.
◆ USB C quick charging port for gimbal, takes only 1.5 hour to fully charge it.
◆ Charge camera via 5V output charging/ cable control port Camera2 (Only for charging SONY camera)
◆ Dual available USB ports for external follow focus/Zoom in&out set.
◆ Customize trigger button, follow speed/dead zone, motor power, etc. to fit for different usage.
◆ Auto-adapt motor power and customize motor power to be chose to work with more cameras and lens.
◆ Optional motion-sensing remote control provides remote shooting and more creative possibilities.
◆ Optional wireless microphone kit for better sound recording, make your VLOG / TikTok video come with sound more easily.
◆ One 1/4inch thread hole and one 3/8inch thread hole at the base of handle for all types tripod/ monopod in the market.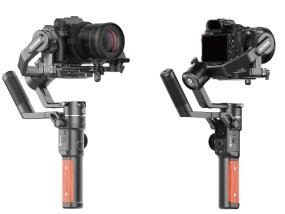 Product feature(s)
Cameras Supported
Popular DSLR& mirrorless camera supported (Check Camera Compatibility Lists for more details, will be updated continuously ):

1、FUJIFILM:X-T4,X-T3、X-T30、X-H1​​ and other similar Mirrorless camera
Lenses:XF 16-55mm 1:2.8 R LM WR,XF18-55mmF2.8-4 R LM OIS,XF16-80mmF4 R OIS WR and etc.

2、CANON:EOS R, M50, M6 and other cameras with similar size and weight;
Lenses: Canon RF 24-105mm F4L IS USM、RF 50mmF1.2L、RF 35mmF1.8 and etc.

3、Panasonic : GH4、GH5/GH5S and other similar DSLR cameras;GX9、GF9 and other similar Mirrorless camera;
Lenses:LEICA DG Vario-Elmarit 12-60 f/2.8-4 Power OIS、LUMIX G 14-140mm f/4-5.8 OIS、LEICA DG Vario-Elmarit 8-18mm f/2.8-4.0 ASPH and etc.

4、Nikon:Z6、Z7 and other similar Mirrorless camera
Lenses:NIKKOR Z 24-70mm f/4 S,NIKKOR Z 14-30mm f/4 S and etc.

5、SONY:A9 series、A7 series and other DSLR camera series;A6300/A6400 and other Mirrorless camera series;
Lenses: SONY FE 24-70mm F4 ZA OSS, FE 16-35mm f/4 , FE28-70mm , FE 4/24-105 G OSS , FE 85mm F1.4 GM and etc.

The size of compatible cameras for reference :
Camera height (include the height of viewfinder)≤130mm
The distance from screw hole to the right edge of camera ≤95mm
Maximum length at lens direction: about 175mm
| | |
| --- | --- |
| Product ID | FY-072190 |
| Brand | FeiyuTech |
| Category | Stabilizer / Gimbal |
| Color | Black |
| Price | HKD 2599.00 |
| Warrenty | 1 Year |
| Share to friends | |